Two Day Workshop | 12 CEs for Oregon LMTs
December 7 & 8, 2019 | 10:00 am – 5:00 pm | $240
(includes 4 hours of Communications/Ethics)
Roseburg, Oregon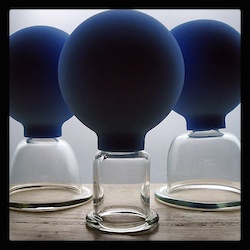 Using specialized cups for the face and neck, this workshop will focus on relief for sinus congestion and related issues. It's also a fantastic massage. No cupping or bodywork experience is necessary, this is a great way to treat clients, friends, family…and yourself. We'll cover the goals and effects of cupping, safety, and several different ways to use the cups. Material will include:
stationary, flash, moving and massage cupping techniques
face & neck anatomy overview, from a Thai Medicine perspective
the use of scarves & Thai herbal compresses
complete face & neck treatment strategy
self care with the face and neck cups
This workshop will give you lots of hands on experience, and the confidence to perform an effective treatment that feels wonderful.
_________________________________________
Registration  No previous bodywork experience is necessary, pre-registration required. Workshop taught by Jim Madras, LMT #7853.