One Day Workshop | 7 CEs for Oregon LMTs
Sunday, May 21, 2017 | 9:30 am – 5:30 pm | $150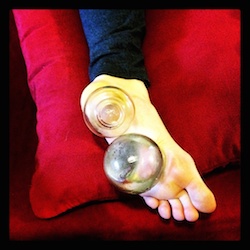 This is a workshop geared for folks who are comfortable with fire cupping, are actively using cups in their practice, and are simply in love with this treatment method.
We're planning on running this workshop a few times per year, and each one will be a bit different. What will be the same in each workshop – there will be a room full of experienced cuppers who want to increase their skills. A bunch of practitioners who are already doing excellent cupping, and will give excellent feedback.
On the 'to do' list for these workshops –  digging deeper into massage cupping, cupping for specific conditions, the hows and whys of using bamboo and stone cups, strategically incorporating oils, balms and liniments. Focused work on shoulders, abdomens, hips, feet. Things that we only got to briefly touch on in Cupping Fundamentals, and some things that didn't get touched on at all.
Not everything will be in each workshop – we'll be tailoring each session based on the participants.
This is a great opportunity to see how others are using cupping in their practices – be ready to share tips & techniques, success stories, and questions.
_________________________________________
Registration
Pre-requisite: Cupping Fundamentals or permission from the instructor, pre-registration required. Workshop taught by Jim Madras, LMT #7853.