Two Day Workshop | 14 CEs for Oregon LMTs
April 23 & 24, 2016 | 9:30 am – 5:30 pm | $200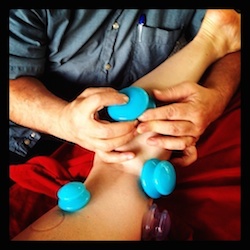 Modern silicone and squeeze bulb cups are fantastic additions to your bodywork toolbox – both for clients and self-care. The convenience of portability, single-handed application (in most cases), and most importantly the ability to apply cups in tricky areas like the face and over joints will open up all kinds of possiblities.
Utilizing the inherent strengths of modern cupping jars, we'll focus on working fascia, scars, the face & neck, and joints.
No cupping or bodywork experience is necessary.
_________________________________________
Registration
Workshop will be held at The Emerald Acupuncture Center. Pre-registration required before Friday, April 15.  Workshop taught by Jim Madras, LMT #7853.
This workshop is now full – if you would like to be on the waiting list, please email Jim.