Sunday July 31, 2022
9:00 am – 1:00 pm PST
12:00 pm – 4:00 pm EST
$54 (includes 2 herbal compresses)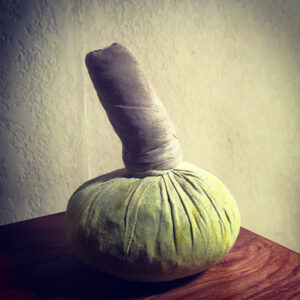 This class is for folks who have completed David Wells' Self Massage and Joint Mobilization class or In Depth 30 Hour Reusi Dat Ton class. Class will be held over Zoom, and I'll send you a link after registration.
If you've never experienced Thai herbal compresses, you'll wonder how you ever got by without them. A generous handful of herbs bundled in a cloth, steamed, and used on the body to melt even the most stubbornly bound tissue – compresses require almost no effort to use and work very very quickly. And they smell fantastic.
For this class we'll be using pre-made compresses from Thailand, and practicing on ourselves (compresses are, by far, the easiest and most effective self-care tools I've run across) – using the basic structure of the Reusi Dat Ton self massage sequence.
We'll cover:
An introduction to Thai medical theory – an overview of Element Theory and the layers of the body, and how they relate to the self massage practice.
An overview of the Thai medicine taste systems that relate to compress work
How and why the herbs in the compresses will save you time, effort, and make you wonder why don't use these things all the time.
Here's what you'll need:
A Zoom account (free).
A way to steam the compresses. This is the steamer I use, but anything similar (including a stovetop steamer) would work.
The cost of the class includes two pre-made compresses – and we'll talk about where to get them, how to pick good ones, and how to make your own from scratch.
_________________________________________
Registration required before July 20.
Workshop taught by Jim Madras, Oregon LMT #7853.