One day Workshop | 7 CEs for Oregon LMTs
Friday February 22, 2019 |  9:30 am – 5:30 pm  | $140
(includes 4 Ethics/Communications CEs)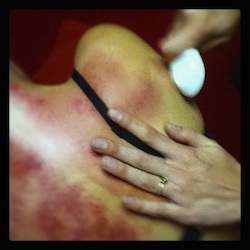 Scraping is a technique using a tool with a smooth edge  along the surface of the skin – traditionally used to treat a wide range of injuries and imbalances. Known as gaan krôot in Thailand, cạo gió in Vietnam, guā shā in China – scraping is a practice that probably has it's roots in the home medicine chest and has been adopted by many traditional medicine systems.
Bodyworkers of all kinds can easily and seamlessly fold scraping into their current practice – and anyone can use scraping for self care or care of loved ones. The technique is easy to learn, fun to practice, results are quick – and there's no expensive equipment to buy.
For the workshop, we'll be looking at scraping through the lens of Thai medicine. No previous experience with bodywork or Thai medicine is necessary, and you'll leave with the skills and tools needed (a $1.20 ceramic soup spoon!) to get started right away.
_________________________________________
Registration Workshop will be held at The Emerald Acupuncture Center. No previous bodywork experience is necessary, pre-registration required. Workshop taught by Jim Madras, LMT #7853.