Six Day Workshop  |  36 CEs for Oregon LMTs
[includes 4 Communications/Ethics hours]
October 12-14 & 19-21  |  10 am to 5 pm  |  $640
October workshop cancelled.
This foundational course is so unique that experienced Thai massage practitioners and instructors, along with those who are brand new to Thai bodywork, will find themselves engaging in an in-depth inspirational learning experience.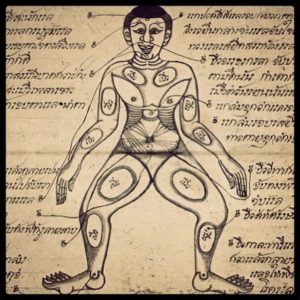 Course provides:
Instruction in how to give a full body Thai massage
Understanding of the layers of the physical body through Thai medicine perspective
Examination of the sen lines, a unique understanding of our connection to movement
Techniques for supine, prone and seated massage
History, theory, and spirituality of Thai healing arts
Daily Reusi Da Ton, Thai self care practices
Daily traditional Thai healing arts spiritual practice
Jim is a member of the Naga Center Teacher's Guild, a small international affiliation of Thai medicine instructors who have been trained to offer certain Naga Center courses.
Students who have studied with a Naga Center Guild instructor often have the opportunity to repeat any course already taken as an intern, with the same, or another Guild instructor for free or for heavily discounted rates. Additionally, students who have taken Naga Center foundational courses with any Guild instructor are able to take advanced Naga Center courses. All Naga Center Guild teachers have studied extensively with Nephyr Jacobsen.
_________________________________________
Registration
Workshop will be held at The Emerald Acupuncture Center. No previous bodywork experience is necessary, pre-registration required. Workshop taught by Jim Madras, LMT #7853.