December 9 & 10, 2017 | 9:00 am – 6:00 pm | $240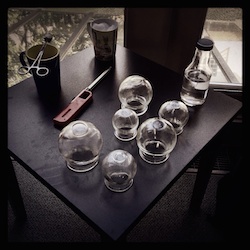 This workshop is a condensed version of our Cupping Fundamentals workshop…but at a special student price. Class size will be limited to 8 students, and by the end of the weekend you'll be able to add cupping to your bodywork toolbox.
Workshop material will include:
safety for the client and practitioner
effects of cupping treatments
flash cupping & stationary cupping
moving & massage cupping
two different treatment strategies for colds & flu
balms & liniments for post treatment care
incorporating cupping into your practice
As a treatment method, cupping is very safe, inexpensive, easy to learn, and very easy on the practitioner's body. By the end of this workshop, you'll be able to safely, confidently, and effectively integrate  cupping with whatever style of bodywork you do – Swedish, Thai, deep tissue, myofascial release, Shiatsu, lymphatic drainage…the possibilities and applications are endless.
_________________________________________
Registration
No previous bodywork experience is necessary, pre-registration required before December 2. Workshop taught by Jim Madras, LMT #7853.