Three Day Workshop | 21 CEs for Oregon LMTs
February 8 – 10, 2019 | 9:30 am – 5:30 pm | $420
(includes 4 hours of Communications/Ethics)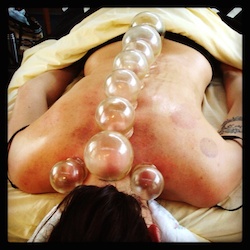 Cupping is an age old bodywork technique where glass, plastic, bamboo, or silicone cups are attached to the skin by negative pressure. Once attached, a cup can be left in place to do its work, or repeatedly attached and removed. Cups can be moved along the surface of the skin – gently lifting the tissue as it travels; or the body can be moved – actively or passively – underneath the cup.
The vacuum is generally used to pull out external influences that have invaded the body (heat, cold, dampness, wind) and are causing pain or illness. Cups are also used to support tired, overused or injured tissue – or enticing blood and movement to weakened or deficient areas.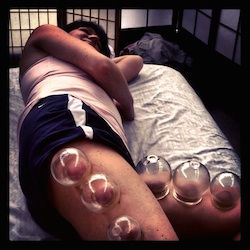 Strategic use of cupping's strengths have been used for centuries for treating pulmonary issues, joint pain, muscle tension, external injuries…and even the common cold.
Workshop material will include:
safety for the client and practitioner
effects of cupping treatments
flash cupping & stationary cupping
moving & massage cupping
traditional fire cups & modern silicone and squeeze bulb cups
two different treatment strategies for cold & flu
balms & liniments for post treatment care
incorporating cupping into your practice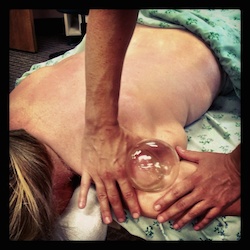 As a treatment method, cupping is very safe, inexpensive, easy to learn, and very easy on the practitioner's body. By the end of this workshop, you'll be able to safely, confidently, and effectively integrate  cupping with whatever style of bodywork you do – Swedish, Thai, deep tissue, myofascial release, Shiatsu, lymphatic drainage…the possibilities and applications are endless.
No experience is necessary for this workshop. If you are not a professional bodyworker, you'll be pleasantly surprised at how easy it is to treat your partner, friends, and family. And, how appreciative they'll be.
_________________________________________
Registration
Workshop will be held at The Emerald Acupuncture Center. No previous bodywork experience is necessary, pre-registration required. Workshop taught by Jim Madras, LMT #7853.