Live Online Workshop | email for upcoming dates
6 Contact CEs for Oregon LMTs
In this series we'll be digging into the full body Thai self-massage sequence, with a focus on identifying and working the lines (the spaces/trenches where you have deeper access to the body) – and how the lines relate to the sên (tendons, ligaments, blood vessels, nerves) and other layers of the body.
Each week we'll work with a different section of the body: legs & feet, trunk & hips, head & shoulders – and we'll start with the arms & hands.
What you'll need for this class:
a few square feet of space
a comfortable blanket or cushion to sit on
computer (with camera & microphone) & Zoom
If you don't already own a copy, David Wells' book is optional – but highly recommended.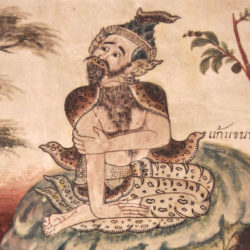 *photo courtesy of David Wells, Wat Matchimawat murals (c. 1600)
Registration
No previous bodywork experience is necessary, pre-registration required. Workshop taught by Jim Madras, LMT #7853